Membership
BECOME AN ATA MEMBER AND YOU WILL RECEIVE:
A welcome pack designed to get you into the business mindset

Holisticpreneur pdf Magazine to download containing hints, tips, suggestions, advice. Arrives in your inbox once a month

Members Only area on website

Downloadable and printable templates, guides and workbooks

Downloadable ATA 2021 Journal and Planner

Business Health Check List included FREE

'Tea And Business Clinic' Group Call x 2 per month

Monthly Module Training

40+ How To training videos - including Facebook, MailChimp, Trello, Journaling, 90 min planning, Canva, Instagram and more 

A private group on Facebook to use as a forum and share with other members.  Also used to share quotes, web pages, links, articles, photos

'Broomstick To Success' pathway - your personal goals and challenges

'It's A Kind Of Magic' - Roadmap to get you started

Magical Mornings - accountability group to get stuff done

1-2-1 support
A place to get help and support, hand holding, confidence, motivation, accountability and to feel you have a team supporting you in your therapy business. 
Ali is a no nonsense girl,  has a wealth of information and experience for running a therapy business which she is happy to share with you through ATA. A great website for members only with loads of information and downloads to help you on your journey. She is always challenging herself to learn new skills which she shares along with the pitfalls she found and how you can avoid them.   Karen, Littlehampton
Having a 'bury my head in the sand' approach to marketing and business a friend suggested I contact Ali Brown and the therapy academy. Her help, knowledge and advice has been invaluable. Ali is a mine of information and has numerous contacts in the industry.  There is loads of information available in the members area of the website, great to dip in and out of. Ali's enthusiasm and energy for business is infectious! Mary - Gosport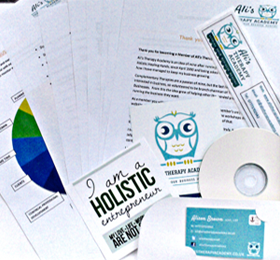 How much does it cost?
ATA membership costs £30.00 per month
Or save £60.00 at £300 per year (2 mths free)
How do I join?
Just give me a ring on 07773 702942 to discuss your membership.
We can also find a payment method that suits you best. Any of these will do: Direct bank transfer, Standing order, Credit card, Cheque